Welcome to our Staff Augmentation page, where we share valuable insights and resources on the art of resourcing. Resourcing is the process of identifying, attracting, and retaining talent to meet the current and future needs of an organization. Effective resourcing is crucial for any organization looking to achieve its objectives and thrive in today's competitive business environment.
Here are some of the key areas we cover on this page:
Recruitment: Recruitment is the process of identifying and attracting qualified candidates to fill job vacancies. On this page, we provide tips and resources on how to write effective job descriptions, source candidates, conduct interviews, and make successful job offers.
Talent Management: Talent management is the ongoing process of developing and retaining talented employees. We cover topics such as performance management, succession planning, and employee development to help organizations effectively manage their talent.
Diversity and Inclusion: A diverse and inclusive workforce can bring a range of benefits to an organization, including increased creativity and innovation, improved employee engagement, and better business outcomes. We provide resources and insights on how to create and maintain a diverse and inclusive workplace.
Employer Branding: Your employer brand is the perception of your organization as an employer in the eyes of current and potential employees. We offer tips and resources on how to create a strong employer brand that will help you attract and retain top talent.
Outsourcing: Outsourcing is the process of hiring external providers to perform tasks or services that would otherwise be done in-house. On this page, we provide insights and resources on how to effectively outsource tasks and services to improve efficiency and reduce costs.
Human Resources Technology: HR technology can help automate and streamline HR processes, making them more efficient and effective. We offer insights and resources on the latest HR technologies, including applicant tracking systems, performance management software, and employee engagement tools.
We hope this page provides you with valuable insights and resources on the art of resourcing. Please feel free to contact us if you have any questions or would like to learn more about how we can help your organization improve its resourcing practices.Staff
Thoughtquad is an Engineering Enablement Squad serving Global Technology landscape, we at TQ help to recreate business through a wider lens. Our systemizing enablement legacy united with our critical business and modernization consulting, design thinking, and reach competencies provide real trade value to our customers through human-centric modernism.
Thoughtquad has been immensely successful in creating comprehensive impact with highly proficient intelligent personnel that helps the organization to accomplish mission-critical, technology adjust projects. Balancing the pace with tasks and being on the observance for extremely high adequate technology individuals has become even more challenging. TQ plays a key role to bring best-suited engineering brains.
Guide, manipulate, and strengthen the technical strategy of customer management. Being up to date on current industry tech tendency and dynamic social media, framework, tech community's presence. Grant to Research Projects in the various expertise domain capacity to participate, drive and implement large business crucial deals. Ability to perform the group in different internal & external technical forums & conference. Globally identified while working operation covering Asia & US. Permissive mentorship, coaching to experts and inculcate best practices. Organize new initiatives like tech talks, meetups etc.
Event arrangement and bubble out the corresponding Talent pool. Thoughtquad is all equipped with mediums across the nation and around the globe, customers can leverage this boundary to organize big event e.g. Codathon, Hackathon, Job fairs, Interview drives & others Constructing Product Upgrading Teams, Product constructing has been another expertise within TQ, analyzing accurate talent or delivering product internal or deployment of robust engineers is a core skill. Platform Engineering Team Evolution 360degree application architecture on platforms is the next area of expertise, the client can leverage Regulated Services Offering & Project Delivery Development, Measuring or Support engagements is doable upon agreement and decision between client & TQ.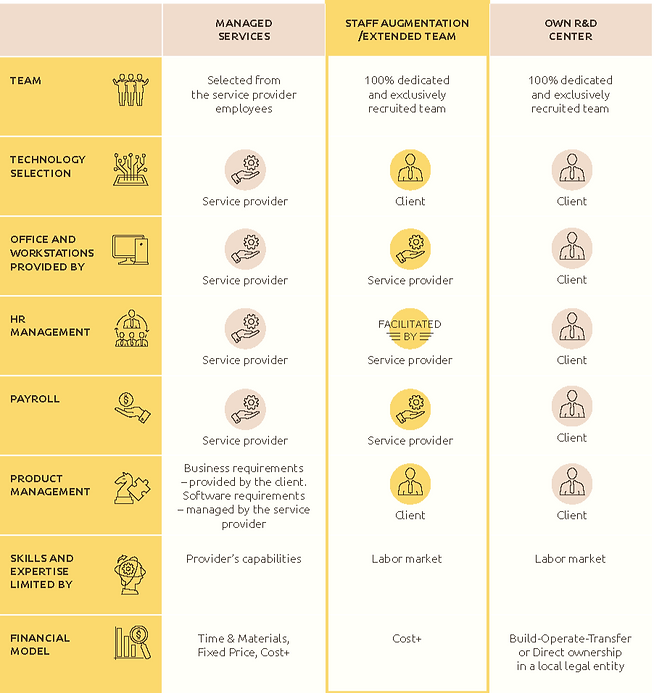 Formative outsourcing strategy that helps you to hire tech talent worldwide and handle your augmented team precisely.
The biggest challenges faced by businesses across the world today is the availability of talent. To attract and engage the best, you need an active employer brand. If they don't know how it is like to work for your company or organization, you compromise losing valuable aspirants to other employers. It is important for businesses to invest in management or employer branding, particularly if they are upgrading internationally or hiring from the younger generation. With millenary to cope up 75% of the labor pool by 2025, investment in employer branding is now more vital than ever before.
To execute this, you will need an employer brand game plan to take the best talent off the market.
Just put, your organization or company should address the following:
• Why should one come and work for your organization?
• Why should they choose your organization over any other?
• Except financial benefits, what extra can you offer?
One demands to look at different ways to understand the employee experience you offer and get your existing employees on board to inaugurate if and why your business is such a strong place to work. They can also approve your value hypothesis to ensure it is realistic.
The blunder that companies sometimes make with regard to their company brand is failing to decide a clear value proposition that is genuinely charming for talent. It needs to be legitimate. And it uses to be on the agenda at board level. Engaging, recruiting and maintaining talent is costly and if it is not gathered around the value proposition, the operation can become even more costly.
It is difficult to involve your executive team in describing your value proposition and don't be afraid to go business-wide. Profile your team on the internet career page, and record them. Give probable candidates an intuition into your employer brand, before they enter your office.
What Makes our
Resourcing Services Different?
Digital Transformation Specialists
Since our founding, we have developed an international reputation as innovative, Digital Transformation specialists. This experience ensures our vetting process produces only the best candidates for our client placements. We have deployed thousands of skilled IT and project professionals into challenging roles across Ireland and beyond.
Technology
As avid technology evangelists, we ensure our clients and contractors have access to a suite of Microsoft tools. These ensure full compliance across time tracking, invoicing and we also provide contractors with the ability to log support tickets when required. Of course, we also provide the traditional landline, mobile number and email if those routes are not the desired contact method.
Leverage Group expertise
Our experience and knowledge across the Group provides a huge benefit to our contractors. Our contractors can leverage the collective knowledge within the Group, particularly our subject matter experts, within our core competency centres. Our clients can rest assured that our team have a deep understanding of the IT industry.
Cost-effective and compliant resourcing services
The Resourcing Services business has developed a resourcing framework, streamlining the resourcing process which is a standardised and effective approach to sourcing and matching suitable staff and associate contractors to open roles. This ensures the most cost-effective method of securing the highest quality of resources for you, our client. Learn more about our resourcing framework here.
Large scale project specialists
IT. Alliance Resourcing Services is a business built on a strong heritage, spanning 25 years of proven "on time" and "on budget" project delivery. We have the capability to scale projects teams quickly for all sizes of clients from SME to global multinationals. Rest assured, that regardless of the size and scale of your project, we have the highly talented, accredited and compliant professionals to deliver your projects.
We do not deploy and forget
While our competitors focus solely on sourcing a contractor for an assignment, our Resourcing Services team focus on the full lifecycle of a client. Each client is appointed an account manager who will ensure we understand your business goals and monitors the smooth running of the assignment throughout the project lifecycle.
Contractor welfare
Our contractors enjoy a welfare programme that includes regular face to face meetings, allowing each contractor to raise any concerns. Our monthly social events are open to all staff and contractors, providing unique network opportunities.